Situational Awareness
UT Knife Attack – Monday, May 1, 2017
The knife attack at the University of Texas on Monday, May 1, 2017 is a horrible reminder to us all that evil exists in this world and our self protection is our own responsibility. With one dead and three injured, what can we learn from this event and witness accounts? A lot.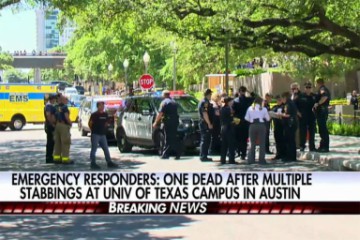 The Attack
There were several witnesses that describe the events leading to the attack. It is important to note the attack lasted only a few minutes and campus police responded in two minutes 3.
"He kicked a sorority girl to the point where she almost fell. A little bit later, that same guy ended up pulling out the knife. Everybody started yelling and running in our direction." 3 If the open carry of a bowie knife didn't trigger your senses this should have been a red flag.
"Student Rachel Prichett told the Associated Press she was standing in line at a food truck outside the gym when she saw a man with a large knife approach the person standing behind her. 'The guy was standing next to me,' Prichett said. 'He grabbed him by the shoulder and shoved the knife in it. I just started running as fast as I could.'" 1 In busy environments it is common to come into close quarters with others. We need to evaluate our proximity to others and look for signals indicating danger. If a person approaches with a knife, get out of there. Use your voice to alert others.
From a student helping one of the wounded during the attack: "He locked eyes with the suspect for just a moment. But as he continued to hold a rag to his fellow Longhorn's bleeding neck, the suspect kept walking." 3 Eye contact with a predator is a way to show you are not a soft target but be prepared for flight or fight if the predator persists.
Situational Awareness
In our highly "connected" society we are provided many distractions that remove us from the physical world. Social media, gaming, email and other activities wrestle attention away from our environment and lock us into digital trance and false sense of well-being. While we are engaging with our devices, life is happening around us.

The term "situational awareness" is used a lot, and in some regards, people may have become desensitized to what the term means. From a high-level, it is an awareness of your surroundings. When you enter a space do you scan the area for oddities things that seem out of place? Do you know where your exits are located. If an emergency situation arose, could you find cover, concealment, environmental weapons and other obstacles to make you a harder target? Do you present yourself as the model victim with certain types of body language and lack of attention? This seems like a lot to consider but in reality only takes a few moments to scan and make yourself familiar with your environment.
Was anything odd about the attacker? Yes. On a college campus, carrying a bowie knife is not a normal thing one sees or expects to see, even in Texas. Although not entirely cause for alarm, people should note oddities like this and keep an eye on the person as well as distance. I understand, it is lunch time, everyone is busy so it is easy to become complacent.
Pre Attack Indicators
Certain types of body language and behavior changes are indicators that an attack will soon occur. We all posses an ability to recognize danger but most of us do not hone that skill or even consider it. There are likely many cues that went unnoticed due to distractions and these are cues that can be utilized if we educate ourselves and remain vigilant.
Classmate says, "White had been missing classes lately and when he asked him about it last week, White said he had a few things going on his life and "that he had to put academics on the back burner for a bit." 4 Although not necessarily a cue that this person will commit a violent act, additional changes in behavior may give clues to the person's psychological state.
For more information on pre attack indicators, see the links at the end of this article.
Responsibility for My SafetyPhoto: Complacency
Many people believe police are responsible for our safety. This shows a disconnect in perception versus reality. Police responded in two minutes to this attack. It takes time to mobilize and address a situation and police cannot be everywhere at once. At present we do not have teleportation technology that I am aware of. If you know of some, message us.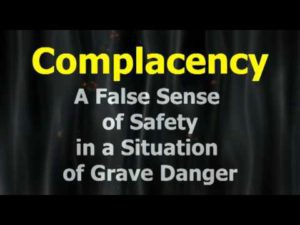 What are we supposed to do if police are not everywhere we are to protect us? We must take responsibility for our self protection by being aware, training ourselves to recognize danger and have a plan in case things go sideways. Find a place that you can train self defense scenarios and combatives. If you carry a gun or knife, train using these tools in various situations, under stress, retention, creating openings to deploy with combatives, etc. Buy training versions of the items you carry along with safety equipment so you can train as close to reality as possible to help recognize patterns of attacks. Learn how items you carry daily can be used as weapons if you find yourself in a non permissive environment or do not normally carry for self defense.
Recommendations
Accept responsibility for your self protection Train with the weapons you carry and not just statically; train retention, combatives and fitness, create distance to deploy weapons Educate yourself further to hone your senses and recognition of pending attacks
Conclusion
The timing of this attack is eerily close to the knife attack seminar presented at The Mat on Sunday, April 30. This was an opportunity for us to gear up and go hard to really train against an aggressive attacker. This differs greatly from a compliant training partner that is feeding you attacks in classes. We drilled techniques and scenarios using eye protection, head gear, forearm pads, and virtual blades (plastic training knives with a cloth strip that allows you to add chalk, lipstick or other items to show when you've made contact with a target).
At The Mat we are training situation awareness and weapon defenses throughout the month of May in addition to the seminar so be sure to attend to learn how to recognize threats, mitigate injuries and improve chances of surviving an edged weapon attack.
Talking about awareness and self defense is easy. Training is the only true way to become effectively ready for such scenarios so be sure to check for self-defense classes in your area. For more information regarding self defense training at The Mat, call us at (512) 520-5997 or email info@themataustin.com.
Pre attack indicators
http://tacticalintelligence.net/blog/pre-assaultive-indicators.htm
https://schaferselfdefense.blogspot.com/2014/02/pre-assault-body-language-indicators.html
Sources
1 http://www.foxnews.com/us/2017/05/01/stabbing-reported-at-university-texas-at-austin.html
2 https://www.nytimes.com/2017/05/01/us/texas-austin-stabbing-attack.html
3 http://kxan.com/2017/05/01/reports-of-multiple-people-stabbed-on-ut-campus/
4 http://kxan.com/2017/05/01/students-react-angrily-following-stabbing-on-ut-austin-campus/