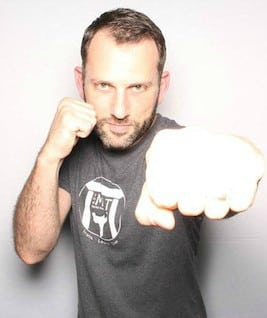 Alec Rains
FTF Defensive Options®, Mat Kids Gozen®, FTF Active Killer Defense®, SPARology®, Kickboxing, Ground, Bags, MatFit
Brief Bio: I began training in Tang Soo Do at the age of 5 under Chuck Norris and Pat Johnson. Having earned my 2nd Degree black Belt I later trained through Nidan in Shotokan Karate where I remained for 13 years and learned the business side of the industry under Sensei Dawn Barnes, the most successful female studio owner in the country and founder of Dawn Barnes Karate Kids, the largest children's only martial arts school. In addition to ranked training I've spent many years practicing other systems including kickboxing, Jiu-jitsu, Judo, Kung Fu and Krav Maga. After 20 years instructing and working with some of the most successful martial arts schools in the country, it became time to put our own visions into reality. We opened the Mat in June 2015 with the purpose of inspiring families to empower themselves both physically and mentally through uplifting self defense training in an approachable and non-intimidating environment.
Additional Instructor Certifications: Gozen Karate (Level 3), Fit to Fight Defensive Options (Level 4), Active Killer Defense®, Fit to Fight SPARology®
Why I Train: I train so I can continue learning. I learn so I can continue living a better life: "Train. Learn. Live."
My Class in 3 Words: Be Like Water
What I Tell New Students: Have fun, do the best you can, and find something new you can learn today!
Favorite Movies: Rocky Anthology, Raiders of the Lost Ark, Bull Durham
Favorite Quote: "A good friend of mine used to say: 'This is a very simple game. You throw the ball, you catch the ball, you hit the ball. Sometimes you win, sometimes you lose, sometimes it rains'. Think about that for a while." – Ebby Calvin "Nuke" LaLoosh.