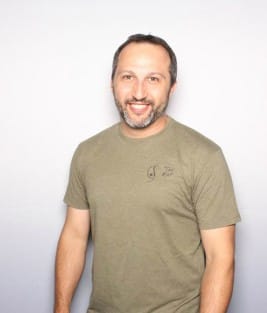 Ben
Defensive Options®, FTF Firearmed®, Trauma Care, Bags
Brief Bio: I have been practicing Krav Maga for five plus years, with previous experience in Karate and Tae Kwon Do. I am of the mind-set that decisive, efficient, aggressive action in a self-defense situation is key to success and survival.
Why I Train: To stay healthy, to stay fit, to keep challenging myself to learn applicable skills for whatever life may bring and share with others.
My Class in 3 Words: Empowering, Challenging and Fun!
What I Tell New Students: Have fun, go at your own pace and always be aware of your surroundings.
Top 3 Movies: Groundhog Day, Field of Dreams, Batman Begins
Favorite Quote: "In theory there is no difference between theory and practice. In practice there is." – Yogi Berra